Tuesday 13/06/2017 we decide to order an Osmosea New 12 ES watermaker from Sailfish Marine.
Monday 26/06/2017 the invoice is paid by us through PayPal and the watermaker is expected.
On Saturday 08/07/2017 it appears that the watermaker is not from England, but directly from the factory in Italy. It is apparently still to be built there, because it has not yet been sent to Las Palmas, Gran Canaria
On Wednesday, July 7, 2017, Sailfish Marine says: the watermaker is ready to send from Italy to Gran Canaria.
Eventually we receive (via our Beta Motor dealer from Las Palmas) on 18/08/2017 a box with the water maker. Unfortunately not an extra package of filters that we asked for and paid for.
Two months after our order and payment !!
We will send an email directly to sailfish about not being complete Because we will not get a response from sailfish after a week, we will send this incompleteness of the order to PayPal On Sunday 27/08/2017 Sailfish responds with a choice: send the filters to Las Palmas or return the value of the package. We choose the latter, the risk is too great that we are no longer in Las Palmas when the filters have arrived.
On 28/12/2017 we take the watermaker into use and the first liters of fresh drinking water are produced With a break on the Gambia river, the water maker works well until the end of April. Unfortunately, the water starts to taste a little salt
On 07/05/2018 we send an email to Sailfish Marine that the produced water from the water maker tastes like salt and that the yield is low. A number of solutions are given:
- Rinse the water maker with water - Clean the membrane with an alkaline cleaner Unfortunately, this does not solve anything
On 31/05/2018 Sailfish reports that the factory in Italy would like to receive the watermaker back to repair it free of charge. Unfortunately, the shipping costs are for us In Palmeira, Sal we send the High pressure amplifier with diaphragm to Italy on 12/06/2018. Weight 17 kg and shipping costs 160 euro.
Unfortunately the package is stopped by customs in Italy because there is no invoice On 25/06/2018 I will make a proforma invoice with an amount of 150 euros.
ON 29/06/2018 the watermaker is delivered to the factory in Italy with import costs of 67 euros.
The watermaker is 'repaired' and shipped to Praia, Santiago with DHL on 12/07/2018. A number of spare parts of the water maker will also be sent for an amount of 190 euros. Shipping costs 400 euros. Only a broken O-ring and a valve in the high pressure amplifier are replaced. Unfortunately, the salty water is not being mailed.
On Wednesday 25/07/2018 we can pick up the watermaker at customs. Unfortunately, we have to pay an amount of 270 euros. When unpacking the spare parts do not appear to be included On Thursday 26/07/2018 we close the watermaker again. After 15 minutes of flushing we try to make fresh water. Unfortunately the watermaker still gives very salty water
According to the factory in Italy, the water maker provided their fresh water
So with us the watermaker gives salt water, after shipping to Italy he gives fresh water, and then back to us gives the watermaker salt water again. You do not believe that anyway!
On Monday 30/07/2018 our question is: What is the technical cause that salt water comes out of the fresh water output? answer:
The membrane is broken or an O-ring in the membrane housing is broken.
To our question why this has not been checked, the answer is that this
is not in the guarantee and therefore does not make sense to make / check!
On 01/08/2018 we ask Osmosea if they can send the already paid spare parts to us with a new memebraan.
On 03/08/2018 the spare part kit will be sent to Praia without a membrane. Osmosea tells us that we have to take a membrane for contact with the dealer Sailfish So on 07/08/2018 we ask Sailfish for a new membrane. Sailfish replies on 09/08/2018 that it is not in stock and is only expected
mid October
.
On Monday 13/08/2018 we can pick up spare parts in Praia. This turns out to be a small bag with a number of O-rings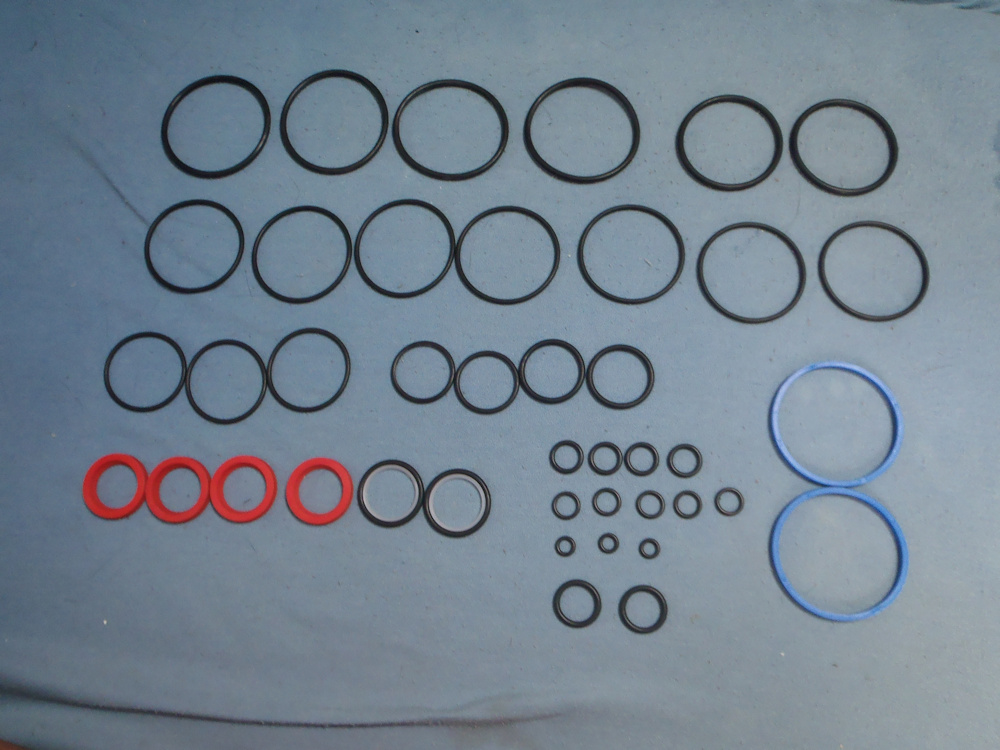 For this we have to pay 190 euros?!?
Fortunately, we can buy a membrane in the Netherlands that we install on 24/09/2018.
With fresh water coming from the watermaker as a result.